Jen Sorensen
Jen Sorensen's comics and illustrations have appeared in the The Nation, NPR.org, Ms. Magazine, The Progressive, Politico, Daily Kos, Fusion, The Nib, AlterNet, Truthout, MAD, Nickelodeon, The Los Angeles Times, The Austin Chronicle, The Village Voice, In These Times, The Book of Jezebel, and dozens of other publications around the country. She has created commissioned long-form comics for the ACLU, NPR, Kaiser Health News, The Oregonian, and other clients.
Trending
Meet the (Partial) Cast of...
"How did we get here?"
January 13, 2021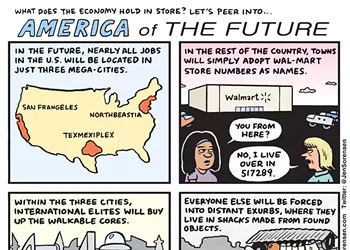 America of the Future
What does the economy hold in store?
January 06, 2021