May 15, 2019 Slideshows » Scout
Food Cart Pods Abound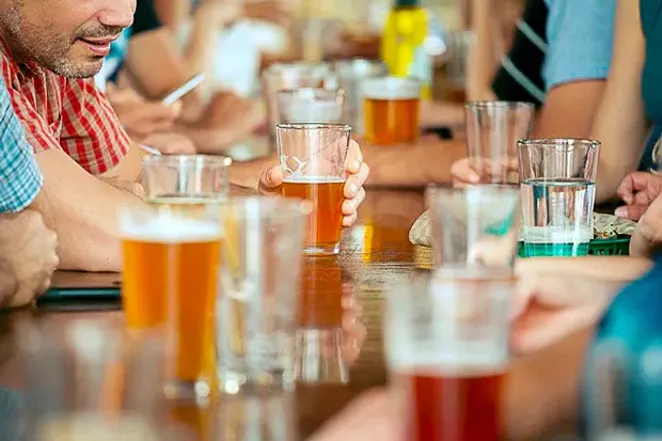 The Lot/Facebook
The Lot
The Lot is Bend's OG food cart pod. It has 16 rotating taps and is generally busy, especially in the summer, but has plenty of room for people to sit and enjoy lunch or dinner. Currently, The Lot has a wide variety of menus to chose from: A' La Carte, Burgz and Dogz, Fricken Faco and Greez Street are all slinging food to hungry peeps. The Lot also has Trivia Tuesdays, Open Mic on Wednesdays and live music on Thursdays. Well worth your time if you're hitting up the west side.
745 NW Columbia St., Bend
Daily: 11am-9pm
541-668-1815 thelotbend.com
On Tap/facebook
On Tap
On Tap is a great summer hangout, featuring corn hole, plenty of space to put a blanket down or lawn chairs and the largest tap list of any of the food pods. On Tap features the following food carts: Barrio, CURBBQ, Himalayan Bites, The Bleu Rooster, PHILLYSTYLE and Bohemian Roastery.
1424 NE Cushing Dr., Bend
Daily: 11am-9pm
ontapbend.com
The Podski/Facebook
The Podski
The Podski offers visitors and people that work downtown some great options for lunch or dinner, and its small tap area will turn into a nice, indoor space later this year. Food carts include Thailandia, Tin Pig, Big Ski's Pierogi, East Meets West Fusion and Austin Street Tacos—possibly the most diverse food cart pod in Bend. Diners can sit at one of the many picnic tables or take food to go. In the summer, The Podski sets up sunshades and in the winter, there's a giant wood-burning stove to keep you warm.
536 NW Arizona Ave., Bend
Daily: 11am-7pm
thepodski.com
Daniel Robbins
River's Place
Bend's newest food cart pod, River's Place, is on Purcell Boulevard, directly west of Costco. Visitors can sit either in the indoor space, full of high-top tables and some counter-style places to eat, find a bench or bring their own chairs and enjoy the grassy area. River's Place is also home to the Source's Rookie Food Cart of the Year, Hogan's Hoagie Stop. If a sandwich isn't on your culinary list, other carts include The Jerk Kings, Red Road Pizza Co., We're the Wurst and Thailandia. Inside the tap room you'll find the 14 rotating taps, including beer, cider and kombucha, as well as wine. Visitors can find live music, bingo and trivia hours. Follow River's Place on Facebook to find events.
787 NE Purcell Blvd, Bend
Daily: 11am-9pm
riversplacebend.com
Daniel Robbins
The Bite in Tumalo
The Bite sits right on the main drag through the small town of Tumalo, just west of Bend. It has Ronin Sushi and Japanese Grill—our staff pick for food cart of the year—as well as Rico's Tacos, Rogue Chef and Heidi's Grilled Cheesery. The taproom, which has rotating local and regional taps, is covered in the wintertime, and with the propane-powered heaters, is very comfortable—even if it's dumping snow outside. In the summer, the walls come off for a nice, airy experience for eating and drinking a few beers or cider. There are a few fire pits by the carts and places for kids to play. The Source staff has sampled all of the food at the Bite, and you can't go wrong with any of the choices. Check The Bite's Facebook page for events such as live music.
19860 7th St., Tumalo
Daily: 11am-9pm
thebitetumalo.com
Siobhan McNulty
Eurosports in Sisters
Beer and a handful of carts, including Boone Dog Pizza
223 E. Hood Ave., Sisters
541-549-2471
eurosports.us
Wild Ride/Facebook
Wild Ride in Redmond
A production brewery and tap room, with carts including Food Fellas, The Jerk Kings, Shred
Town and Red Road Pizza Co.
332 SW 5th St., Redmond
wildridebrew.com
Lisa Sipe
General Duffy's Waterhole in Redmond
A great tap room, plus carts including Budo Bowls, Taino Puerto Rican food, Curbside Bacon, Senior C's Street Tacos and That Guy's Bistro
404 SW Forest Ave., Redmond