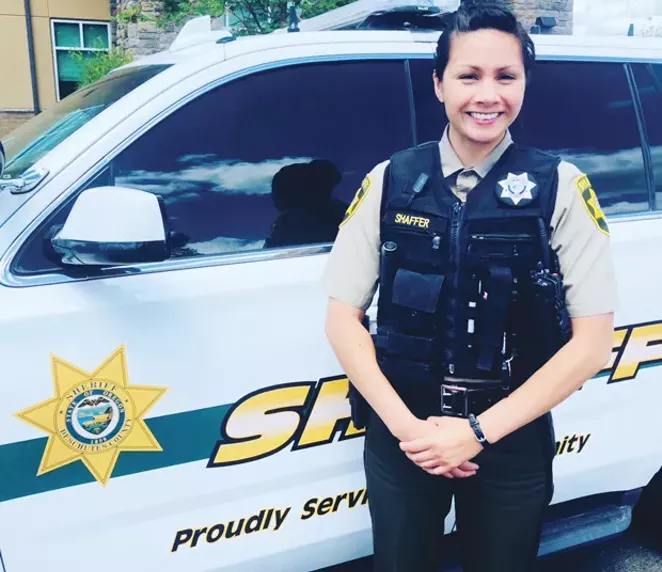 Twenty-four years has passed since I was last in a police station. After a short lifetime of 911 calls and sirens, at age 10, law enforcement forcibly removed my sister and me from our mom's custody. We sat in the cold plastic chairs at the station and waited to be released to our father.
Many people have experienced trauma surrounding law enforcement.
Fast forward to summer 2018.
A mysterious cell phone shows up on my porch via FedEx and several credit cards are erroneously opened in my name. I found myself in a police station, again, filing an identity theft police report.
That's where I met Deputy Ruby Shaffer of the Deschutes County Sheriff's Office. Although the situation was stressful, to say the least, Shaffer's calm and supportive manner was invaluable. Plus, dealing with a woman law enforcement officer immediately made me feel safer.
Currently in her first year as patrol deputy, Shaffer said, "After serving the country I love in the Oregon Army National Guard for 10-plus years, I wanted to serve my community on a more personal level."
While earning her criminology degree, Shaffer did seasonal work for Oregon Counter Drug as a contracted criminal analyst through the National Guard. After, she started as a field law enforcement technician with Deschutes County. Shaffer describes her duties, saying, "I would handle animal calls and calls that didn't require me to interact much with named suspects of higher-level crimes. The technician position was the Deschutes version of a community service officer, except we are armed."
When I asked Shaffer about the hardest part of her job, she explained, "Any calls involving children are especially hard because it is fairly rare that we are called to address a young child who is causing problems. We are almost always called to deal with problems involving adults. Children tend to be the innocent bystanders who are often caught up in what the adults are doing and I find that hard to swallow at times."


"As a female deputy I've noticed most people—men and women—act differently when a female deputy or officer is added to the mix of male officers or deputies." —Deputy Ruby Shaffer

tweet this
Besides a litany of experience and hard work, Shaffer acknowledges the asset of being female in her position. "As a female deputy I've noticed most people—men and women—act differently when a female deputy or officer is added to the mix of male officers or deputies. I'm not sure if it's the sight of a woman in uniform or if it's because we (women) usually try to address people's issues using verbal techniques paired with non-threatening body language before resorting to other methods. Both traits are disarming when used properly and most people's problems can be addressed and resolved just by listening and responding appropriately."
Shaffer notes, "I love that every day my task(s) are different and (most of) the people I meet every day are different. One thing I didn't expect to find working in this capacity is I feel I am so much more in touch with the community I live in. I mostly grew up in Roseburg, Oregon, and I did not have as intimate of an understanding of that city as I do of some parts of Deschutes County after living here for only three years. I also have the privilege of working with and for some of Deschutes County's finest men and women whom I respect and admire greatly."
Shaffer also appreciates the support of her husband. "I can't count the number of times I've been grateful for his presence at my back— not because I need someone to watch over me, but because I need someone to lean on when I'm physically and emotionally exhausted.
"I haven't been doing this job as long as most of my peers and I can't imagine how stressful it is to have a spouse or partner with a career in law enforcement. I can say that I'm successful because my spouse supports me and motivates me to be better every day. The men and women who stand behind or support their officers and deputies are the unsung heroes of law enforcement."
To little girls who want to pursue a career in law enforcement, Shaffer said, "Keep your head up. It's perfectly fine to be bossy! Tenacity is a virtue, but patience also. Police work requires exorbitant amounts of both."