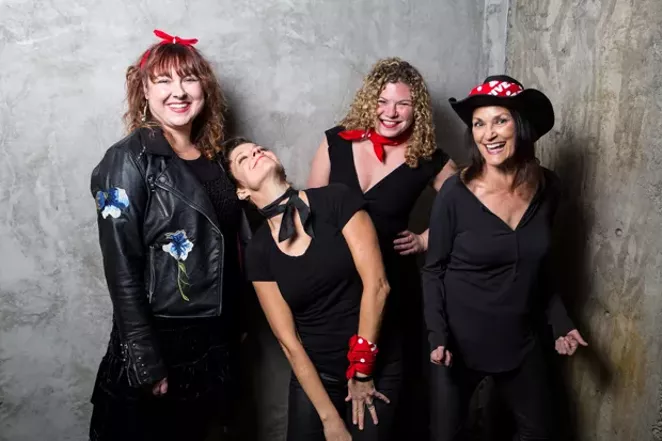 I talk to men about music every week. Don't get me wrong; this job is awesome—but week after week, I ask myself, where are all the women?
I know they're out there. I've been seeking them out since I first heard "Just a Girl" by No Doubt in fifth grade. When I found out singer and guitar player Ashleigh Flynn was bringing her all-female band to Bend, I jumped at the opportunity to speak to this woman about music.
A force on the Americana music circuit, Flynn grew up in Kentucky and calls Portland home. For her latest undertaking, she and three other female musicians form an all-female band that pays homage to the "Rosie the Riveter" archetype and the millions of American women who entered the male-dominated workforce during World War II. Ashleigh Flynn & The Riveters amp up the rock and roll sound on the self-titled album, produced by Chris Funk of The Decemberists.
"I had all of these kind of simple, fun rock tunes that were kind of just coming here and there," Flynn recalls. "I met this woman in LA, who is an incredible guitar player, and I just happened to see her with her all-female band, and she was just shredding all of my old favorite classic rock songs. You know what, I love that I shit. I don't care if it's not cool."
Flynn recruited that shredder, Nancy Luca, to become part of The Riveters.
To complete the album, Flynn received a Regional Arts and Culture Council project grant as well as an Oregon Arts Commission fellowship—awards that aim to bring more equality to the Americana/rock arena by showcasing the talent of female and LGBTQ musicians, often under-represented in the genre.
"I think it's rare that a state has funds available to give artists and for the express purpose of helping to hold up art that they think has merit, art that they believe will make some positive community impact," Flynn said.
Funk—who's been friends with Flynn for years—helped record and produce the album at Halfling Studios in Portland. He first heard her playing at open mic nights in Eugene and suggested she pursue songwriting.
Since Rosie the Riveter's introduction during World War II—coincidentally, first appearing in a song—the archetype has served as an icon of hope and strength, themes that weave throughout the lyrical content of the Ashleigh Flynn & The Riveters album.
"Man... 'hope' is like every other four-letter word, but it's essential," Flynn says. "I feel like right now with politics the way they are, I was still struggling in the music business just as a female and now it seems even more that hope is essential in these times. It's important for us to remain vigilant if we feel like American politics are diverting into a path that doesn't support our values, and I don't feel like our administration supports the values of the majority of Americans. I draw a lot of hope from our shared history and that's the only option, I guess for me. To be hopeful and continue to believe in the goodness of people."
Bend comes as the first out-of-town stop on the band's album tour. Flynn hopes to get as much exposure for these songs as possible, in hopes of making another record.
"We can do it! We can play just as well as the boys and we deserve to be at the top of the marquee just as much as anyone else," Flynn says. "We're tired of the glass ceiling and hopefully we can be an inspiration for other female musicians."
Ashleigh Flynn & The Riveters
Fri., Nov. 23. 8:30pm
Domino Room
51 NW Greenwood Ave., Bend
$12/adv at Bendticket.com