It's Women's History Month, so let's continue the dialogue on embracing fearless and eternal feminine power through music and performance art. More importantly, let's discuss the vitality and continued progression that affects our mind, body and the modern world when we honor and practice deep-rooted historical traditions in these two mediums, especially dance. I recently had the opportunity to connect and interview Bend-based dancer, yogini, herstorian, visionary and powerhouse of a woman, Tenley Wallace.
"Without music there is no dance," says Wallace. "Dance saves lives."
Starting out as an underground VJ in the early revolution of the '90s San Francisco electronic music scene, Wallace was immersed into a world where dancing became a culture and a community; a home. Wallace nostalgically shared with me stories of endless San Francisco nights in a warehouse on 150 Folsom Street that housed shows from sunset to sunrise with some of the best DJs from around the world, along with visual art and what became a family of dancers that blossomed Wallace's dance career.
"I had masters of ANY genre of dance easily accessible in SF and the East Bay — so I took advantage of that to the best of my ability," she said. Over 25 years, Wallace traveled, studied and integrated an international explosion of ancient disciplines from around the world — practices, art and culture that were are on the edge of extinction, especially from India, Tibet and Nepal.
"I have traveled the world to study with legendary masters in dance and yoga, to receive the most authentic teachings and related cultural experiences, or more accurately, to embody full sensory transmissions, so when someone studies with me or experiences my performances, they are getting an authentic lineage-based experience. There are too many posers in this world diluting the riches of our global cultures," Wallace said.
In addition to an integral loyalty to the music and culture from different regions in the world, Wallace focuses on a multi-sensory experience with a heightened devotion to ancient ritual to invoke a sacred space for her students. "In other words, I am dedicated to cultural preservation. After so many students around the world continued to give me feedback how my style was unique, well taught, high integrity with alignment and uniquely powerful for women, I developed and expanded my personal home practice into this format and now teach around the world," she said.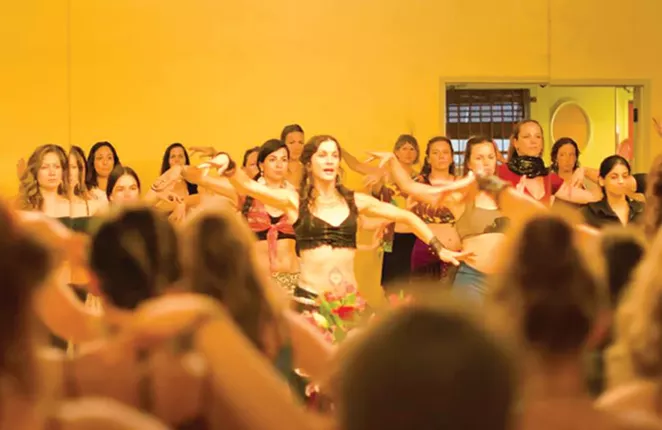 On her first trip to India in 1996, Wallace began developing Temple Tribal Fusion — a fuse of her learnings and her own subgenre of dance that had been building since she was 28. TTF includes tribal belly dance (birthed in the '90s from her home in San Francisco), Odissi Indian Clas-sical Dance (daughter of a very ancient Temple Dance), flamenco (great-granddaughter of ancient Indian Temple Dances), North African and Middle Eastern dances from Arabia, and also traditional belly dancing. Wallace began teaching in 2006 then went fully online and international in 2013.
From the core, Temple Tribal Fusion has a strong foundation in the principles and practices of Yoga.
"Yoga, just like dance, literally has saved my life — many, many times. I'd even say, above all, yoga is the foundation of my life, work, spiritual discipline — no exaggeration." stated Wallace. "TTF is the cohesion of my life's study, passion, discipline and devotion to dance, yoga, empowerment practices and transformational modalities, with a focus to awaken women into their full vibrancy, authenticity and right use of power." This complete body-mind-energy system enables women to expand into their unbound potential in radiant health, lead by Yogini wisdom, with the goal of self-mastery and vitalization of body, energy, heart and mind for women. TTF stems from ancient feminine power — which holds some of the richest cultural expressions of music, costuming, storytelling, and prayer."
For those craving a physical and spiritual awakening, this is an experience locals won't really find anywhere else. Wallace offers classes locally both in person and online, and is planning a week-long series starting April 4 at Central Oregon Community College.
Learn more about her work at templetribalfusion.com.