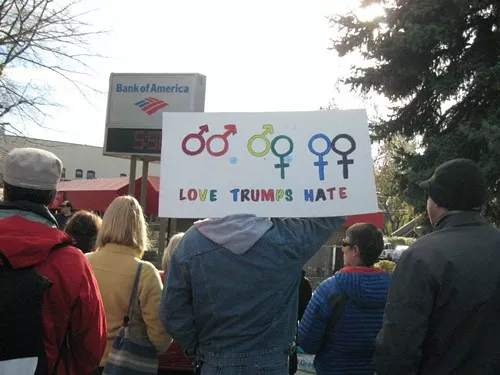 Photo by Brooke Stanley
Marriage equality supporters gather for a rally in April.
Lesbian, gay, bisexual, and transgender Oregonians are celebrating a major victory today following a noon ruling by federal judge Michael McShane striking down the state's 10-year-old ban on same-sex marriage as unconstitutional.
Supporters of marriage equality for same-sex couples were optimistic leading up to the ruling. In Portland and Eugene, the campaign behind the effort to remove that ban from the Oregon constitution, Oregon United for Marriage, rented ballrooms and prepared them for celebrations and ceremonies.
In his ruling, McShane put it plainly:
"Because Oregon's marriage laws discriminate on the basis of sexual orientation without a rational relationship to any legitimate government interest, the laws violate the Equal Protection Clause of the Fourteenth Amendment of the United States Constitution."
In Bend, supporters will gather at the Peace Corner outside the downtown Bank of America to celebrate from 4:30 to 5:30 p.m.
We'll have more as the story unfolds. Getting married? Tell us about it.