On Dec. 28 the City of Bend declared the campsite on Hunnell Road was unsafe and would be removed in March. It's the largest campsite for people living outside of typical homes in Bend, and at peak residency in the summer there were over 100 camps on the road. That number shrank to about 65 over the winter.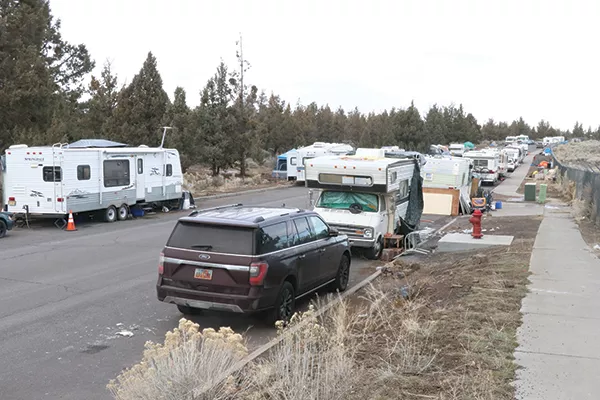 Victoria McKenzie, who has lived there for about four months, said the cold is the toughest part of living on the road, just above the amount of thievery. She's living in a trailer that she can't move because her car broke down. The trailer is too old to be admitted to an RV park in the rare case there's a vacant spot in one, she said. She's not sure where she'll go between now and the closure.
"I don't have [a plan]. I just keep looking for opportunities and when one arises, I'll take that opportunity," McKenzie said. "I'm signed up for everything, but that doesn't say anything. It's already been a year since I signed up for Section 8 and nothing's transpired with that."
McKenzie also hasn't had luck signing up for safe parking programs or the tiny-home villages in the area. She hopes a part-time job will increase her eligibility in supportive housing programs, or that it could supplement her Social Security payments enough to get into longer-term housing.
"Moving is terrible. Always having to move, you can't become stable. Any anthropologist will let you know that if a person is not stable for six months or longer, they're not going to progress, they're not going to be productive," she said.
The City declared the campsite unsafe after conducting an assessment between Aug. 15 and Nov. 15, 2022. It concluded that vehicles and personal property are intruding on the roadway, that there are environmental impacts related to vehicles and reports of fire and a large number of calls for service to the area. Some 33 people were arrested in the 218 times police were called to the area in the three-month period.
"We've just seen a huge demand for our public safety services, which is just not sustainable. And when you talk about some of the threats to both life and property with fire and some of the criminal occurrences there, we just feel like we need to create a safer environment for everyone," said City Manager Eric King. "We're trying to provide some support systems to help make that happen in a way that really meets people where they're at, because everyone has different needs. And there's no one solution, unfortunately, that's going to solve everyone's problems."
The City said the assessment was partially driven by Deschutes County and the Oregon Department of Transportation's construction projects in the area, and the camp is expected to be closed before the construction begins. Current City code authorizes camp removals only after it is deemed unsafe after an analysis, though once the camp is swept, newer code that more strictly regulates where camps can be and when they can be removed will be active. King said the City issued a three-month timeline so service providers had more time to work with the people living on Hunnell.
"As soon as we had a pretty clear understanding from the County on their project proposal, we were starting to see the level of public health and safety issues just continue to increase," King said. "We felt like more time is better, to be able to help support individuals and moving to a more secure and safe place."
The relatively new Coordinated Houseless Response Office will help to organize governments, nonprofits and Deschutes County Behavioral Health to assist people relocating and offer services for people living on the road. Deschutes County is one of eight counties in Oregon that developed a coordinated office under House Bill 4123 with the goal of leveraging all available resources in a county to better address houselessness. Over the next three months it will be conducting "surge support" on Hunnell Road in what it hopes can be a blueprint for future camp dispersals.
"[Surge support] includes a needs assessment for individual clients determining what their plans and goals are and any resources that they may need in terms of accessing care, getting into rehab facilities, towing vehicles, repairing vehicles, medical attention. The idea is that we have a coordinated response to outreach and assessment and a surge of resources across partners," said Cheyenne Purrington, executive director of the Coordinated Houseless Response Office.
Purrington said the goal is to get people into shelter or long-term housing, but notes not everyone will take advantage of those options. She said her office will work on alternatives for people who aren't interested in traditional shelter options, such as reunification with family or alternative parking spaces.
"We are working with the county to identify potential parcels that can be utilized for variations of safe parking. We are looking at a range of development opportunities for tiny homes, upgraded RVs. The City has made available a series of shelter beds both in congregate and non-congregate settings at the Navigation Center and the Rainbow Motel," Purrington said.
The Joint Office is conducting "surge support" at other smaller and more disjointed camps around the county, including doing outreach at an encampment north of the Redmond Airport that the Federal Aviation Administration said must be cleared for safety reasons, and at two parcels near Redmond that the Department of State Lands refuses to sell to the county until it removes encampments.
"When we think about how the homeless response system works, it wasn't really designed or built with intention," Purrington said. "Our goal is to create a system that performs well, is designed and responsive to the needs that we have here locally and is able to respond urgently as a humanitarian crisis, which is what homelessness is, but also plan for long-term development of affordable and supportive housing, development of programs, investing in provider capacity. So that our local communities are able to respond and implement and create programs that are effective."