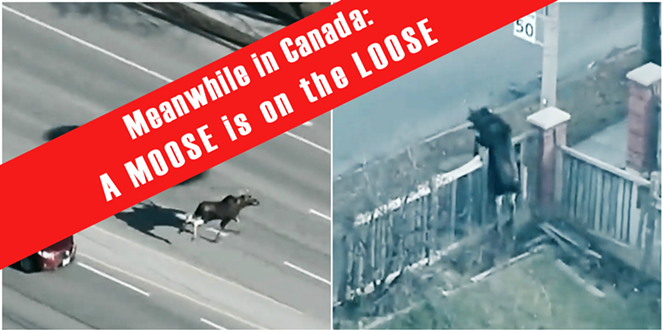 I
n a news story that could only happen in the great white north—and may just be every Canadian news anchors dream— a young, 800-pound moose wreaked havoc in the busy residential streets of the suburban town of Markham, just on the outskirts of Toronto, Ontario.
For more than eight-hours, Toronto Police, animal control, drones and bewildered spectators watched as the moose avoided cars, scaled fences and ran...
like the wind.
Below, a complete, not-so-serious, play-by-play transcript. Scroll to see the full video from CTV News Barrie.

Stoic News Anchor:
"To say it's been a WILD day in Markham, would be an understatement. A MOOSE was roaming around in a highly populated area from the Buttonville airport, darting through traffic and into yards.
Let's go
LIVE..
."
Clearly stoked yet equally stoic reporter:
(shaking head sideways, downwards, all around, nodding in agreement, disagreement? Who knows.)
And...
WHAT A DAY IT WAS TONY
(pause)
Police were led on a
(wait for it)
wild
moose
chase... and at one point, the Ontario Provincial Police considered shutting down Highway 404. There were tense moments today for a young moose lost in the city of Markham.
- Cut to headline, "Moose on the Move." -
Soundbite #1—Impressed Woman:
"I literally walked out and there was this moose that came flying right into the field.
Soundbite #2—Not-so-Impressed Woman 2:
"No... I mean, I was very surprised to hear there's a
(wait for it)
... moose on the loose."
Still stoked news reporter: "
For more than eight hours, wildlife experts
tracked,
the moose's every move. On the ground, in the air, watching it dodge cars and tracks, trying to find it's home
(wait for it)
in the wild...

Canadian Police Officer sporting an epic mustache and a no-nonsense attitude who clearly likes acronyms:
"We wanna back off. Use our UAV, locate it, let it settle down and get the MNR in there and hopefully they can tranquilize it."
- cut to police dashcam footage of moose running in the suburbs -

News reporter:
..."A brush with nature, people here soon won't forget."
Confused resident:
"Yes, it's very strange....we've had
ah
... deer
here..
and... foxes? But never moose. It's pretty amazing.
Canadian Police Officer:
"THIS IS the first moose I've ever heard of this far south and when you're dealing with a large animal like this (cut to footage of moose scaling a fence), much like a horse (horses can't climb fences c'mon on), you have to have the respect for the large animal because (wait for it) the animal CAN't communicate with the person.

Still stoic News Reporter:
"I give that jump over the fence. A perfect
ten."