People in three neighborhoods west of Sisters have received pre-evacuation notices, after the Mill Fire west of town grew Wednesday. The fire, burning since last week, grew from 260 acres to about 3,000 acres Wednesday afternoon.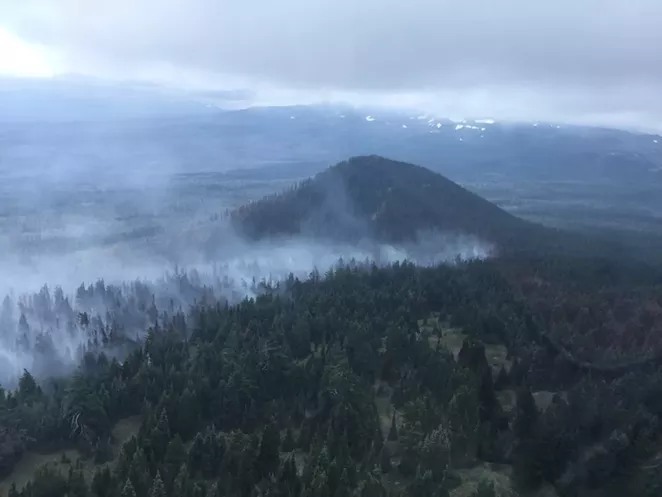 The fire is burning 8 miles west of Sisters and approximately 1.5 miles southwest of Black Crater Lake.

The Deschutes National Forest and the Type 1 Incident Management Team now managing the fire are hosting a public meeting tonight, offering information about the evacuation orders for the Crossroads, Edington and Tollgate subdivisions of Sisters. Crossroads and Edington are under a "Level 2" order, while Tollgate is under a "Level 1" order.
The Level 2 notice includes all of the areas south of Hwy. 242 (McKenzie Hwy.) and west of the Pole Creek Ditch (1-1 1/2 Miles west of and parallel to FS Road 16/Three Creeks Rd). That includes the Crossroads subdivision and homes off of Edgington Rd and Remuda Rd. These areas were previously Level 1.
The Level 1 notice includes all of the areas between Highway 242 and Highway 20, from the Cold Springs Campground to the city of Sisters, including the Tollgate subdivision. That does not include the city of Sisters or Black Butte Ranch.
Level 1 is a "Be Ready" pre-evacuation notice, meaning residents should be ready for evacuation and should be monitoring emergency websites and local media outlets for more information.
Level 2 is a "Be Set" notice, meaning residents should be ready to leave at a moment's notice.
The public meeting will take place today, Thursday, Aug. 17, from 6 to 7pm at Sisters High School.
For more information on evacuations, contact the Central Oregon Joint Information Center at (541) 550-4888. For meeting information, call the Sisters Ranger District at 541-549-7700.
Story update: Aug. 17, 4:30 pm, from ODOT:
"OR242 has been closed due to the Milli wildfire near Black Crater. Closure is west of Sisters at the east gate, and a soft closure is in effect at OR126, near McKenzie Bridge, with a gate closure further east. ODOT is ensuring that campers and hikers are being removed from the area."