I
f there's anything more emotion-inducing than seeing your little one go off to kindergarten, it may be knowing that this may be the last year she'll go to that school. Changing school boundaries can be a heated issue, no matter what grade level.
School boundary changes can even become a political touchpoint, pointing out divisions in race and class. One study published in the
American Educational Research Journal
, titled "The Gerrymandering of School Attendance Zones and the
Segregation of Public
Schools," found that "gerrymandering of attendance zones generally exacerbates segregation."
As an article in
Vox
from January 2018 pointed out, "Groups with political clout — mainly wealthier, whiter communities — have pushed policies that help white families live in heavily white areas and attend heavily white schools."
In Bend, every school in the Bend-La Pine district may soon be subject to a boundary change, say representatives from
Bend-La Pine School
s.
Right now, Bend-La Pine Schools is looking for volunteers to serve on a committee that will make recommendations about how to adjust school boundaries, in light of new schools entering the district. After
voters approved
a bond measure in 2017, the district is set to open a
new elementary school
in the fall of 2019, with new middle and high schools to follow.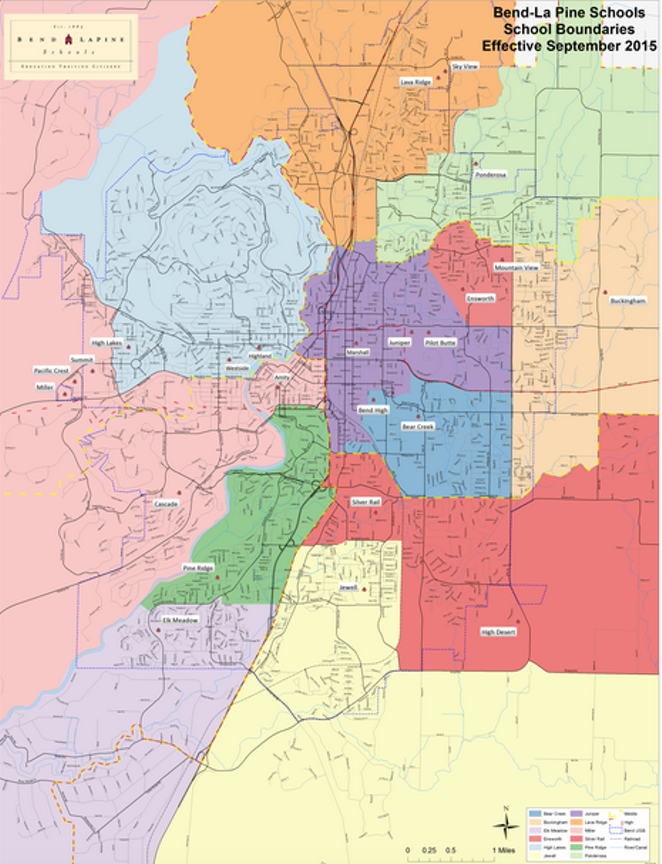 Committee members will serve for two years, addressing boundary changes for elementary schools in the first year and middle and high schools. Boundaries for every Bend-La Pine school may be affected, district officials stated in a Sept. 6 release.
"The committee will examine ways to adjust current boundaries to ease over-crowding and balance enrollment among our schools, while setting new attendance areas for our new schools," Chief Operations Officer Brad Henry said.
The deadline to apply for the committee is Sept. 17. Interested people can apply by navigating to:
www.bend.k12.or.us/boundaries
.
I
f you're interested in the topic of how racial segregation
can be exacerbated by school boundaries, and how and when districts allow in-district transfers, check out
Vox's interactive piece
, "We can draw school zones to make classrooms less segregated. This is how well your district does," which allows you to look at data and analyze how Bend-La Pine and other districts fare in making schools more or less integrated than the underlying neighborhoods.
Here's a look at the data the piece uses, and how it plays out for Bend-La Pine. Pretty fascinating stuff.