A
whistle sounds and the clacking of skates against waxed, concrete floors becomes the lively soundtrack to hard hits and even harder falls. It's Sunday morning. While some people are sipping mimosas at their favorite brunch spot, the Lava City Roller Dolls are working up a sweat playing the full-contact, full-throttle sport of roller derby.
Another year, another season, as Bend's only all-female flat track roller derby league gears up for their season opener against the Ventura County Derby Darlins Saturday, Oct. 7, at Cascade Indoor Sports.
Not familiar with roller derby? Here's the quick and dirty: a game is called a "bout" and is made up of two-minute "jams," or rounds of play. Each team is made up of one "jammer" and four "blockers" who skate counter-clockwise around a track. Both jammers attempt to skate laps around the opposing team's skaters to score points. The blockers from both teams form a pack, using strategy and hip checks to block the opposing team's jammer while simultaneously aiding their jammer through. She who scores the most points wins.
Simple, right?
Founded in 2006, the league operates as a nonprofit, grassroots organization powered by the skaters, for the skaters. You've probably seen derby girls volunteering at charity fundraisers and events like Bend Oktoberfest. Giving back to the community isn't just important to the league, it is part of their mission statement.
LCRD offers women more than just an adrenaline-fueled, after-work activity,;roller derby is a community — with skaters spanning across the globe. Kelly deKramer, who skates for the Smokin' Ashes by the name, "Slay-her," says the camaraderie sets roller derby apart from other sports.
"I mean, I can go anywhere in the world and say, 'I play roller derby,' and have a place to stay and people to hang out with," said deKramer. "I like that part a lot."
The sport offers skaters a unique opportunity to not only play a competitive sport, but it is one of the few full-contact sports available to women.
"...I just love feeling empowered and like a badass, I think," said 23-year-old Taylen Winters. "I was never part of a team sport, really, and I didn't really consider myself athletic."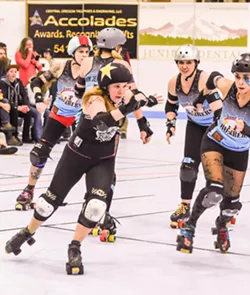 W
inters, aka "Rollentless Winters," is new to LCRD this season, having transferred from the Humboldt Roller Derby league. Her blonde hair in two tightly woven braids, and with an easy smile, Winters laughs as she says she has never skated in an official bout. She went through a rigorous boot camp, made the team — but broke her ankle and missed the whole season.
"I'm excited to actually play one real game of roller derby," said Winters. "Hopefully before I break something else."
deKramer said that she has had her fair share of injuries, which includes a torn ACL in her left knee. It just comes with the territory. Still, she says, the game isn't as heavy hitting as it used to be.
"The game has evolved so much, especially since I've started — 11 years ago," deKramer said. "It used to be all about skating fast and hitting hard and now it's all about strategy."
Dusty Hutchins, aka "Coach Dirty," says the highlight of last season was their win against Eugene's Emerald City Roller Girls, a longtime rival and a team they haven't beaten since 2008."To see all of these skaters, where that had been the pain in their side—losing to them over and over," said Hutchins. "A sister rivalry just two-and-a-half hours apart, and to finally come in with that victory."
Hutchins, the head coach for the adult teams, says that one of their strongest assets is what they call their "crustiness," or the experience that the veteran skaters bring to the table. But as older skaters retire, they'll need solid replacements — making recruitment and development of younger skaters the main goals.
As for deKramer, she's not hanging up her skates just yet.
"I would like to make it to 50," deKramer said, who's now 48 years old. "That's only a couple more years. I don't know, we'll see."
The event on Saturday opens with LCRD's junior team, the Cinder Kittens, taking on the Salem Cherry Blossoms at 4:30pm, followed by the Smokin' Ashes vs. Ventura County Derby Darlins at 6pm.
If you're interested in skating for the Lava City Roller Dolls, they have opened their Wednesday practices up to new skaters of all skill levels, ages 18+. Visit their website, lavacityrollerdolls.com
Sat., Oct. 7, 4:30-9 p.m.
Doors at 4:15pm. Junior bout at 4:30pm. Adults at 6pm.
Cascade Indoor Sports
20775 NE High Desert Ln., Bend.
$8/adult, $5/students, children, seniors, military.