T
he local program that helps Central Oregon nonprofits raise funds toward their end-of-year giving goals is back—this time, with a far more ambitious goal.
Local nonprofits can sign up now to join
Central Oregon Gives
, the program
created in 2019
by the Source Weekly and What If We Could. Last year, the program raised over $575,000 for nonprofits—exceeding the program's initial goal of raising $50,000 for the cause.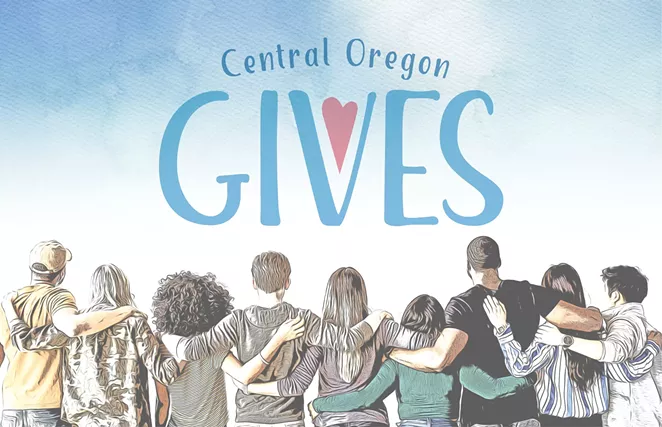 This year, Central Oregon Gives is setting a goal to raise at least $500,000. As the pandemic continues to impact local people, organizations and businesses, the needs in the community are even more acute. Setting a high bar for the fundraising program will help Central Oregon Gives make a little headway in helping out.
Even better: The nonprofit raising the most earns an additional $15,000 award. An additional $10,000 in awards is also given to nonprofit winners in various categories, for a total of $25,000 in additional awards.

The program saw so much success in 2019, its creators believe, because of the unique "Perks" people can earn when they donate. When someone donates, they also get a Perk such as a drink at a local brewery or an appetizer at a local restaurant. The program helps the nonprofits raise funds, helps local establishments raise their visibility and gets people through the door—and gives donors a feeling of win-win for everyone.
"The ease of going online via phone or desktop, reading summaries of nonprofits and how the funds will be used, attracted all generations to give—in fact we saw a number of donors discover and select multiple nonprofits and donated to them all!" said Rys Fairbrother of What If We Could.
People in the community can begin to donate through the program starting Nov. 12. In the meantime, the Central Oregon Gives team is working with nonprofits, helping them get their
profile set up
on the Central Oregon Gives site. Once the program is live on Nov. 12, the nonprofits and the Perks get widely promoted in the Source Weekly and online.
Donors can donate from Nov. 12, 2020 through Dec. 31, 2020.
Nonprofits interested in donating, and businesses interested in offering a Perk can contact
[email protected]
, or call 541-383-0800.