How much is too much love?

It's no secret Central Oregon is an outdoor lover's paradise, with an abundance of easily-accessed trails, ski areas—and of course, the beautiful Deschutes River. It's also no secret that Central Oregon loves dogs. We take our fur-babies everywhere with us—especially to the river or lakes to swim when the "dog days" of summer have set in. They love it too. In recent years, the popularity of seeking out secluded or even urban areas to swim our four-legged friends has exploded, along with the heavy impact the activity has on the banks of the Deschutes River ecology we also love so dearly.
The erosive impacts are felt the most where dogs climb out of deep water or up steep slopes. Our four-legged friends can inadvertently trample riparian vegetation and expose raw dirt which can easily be eroded away. I will never forget the first time we witnessed a dog kick loose a big chunk of vegetation, roots and all, while pulling herself out of the river at Meadow Camp. The image of years of vegetative growth washing downstream forever made an impact and spurred a search for solutions.
It's all too common now to see many areas of the Deschutes completely denuded of riparian vegetation with deep furrows and runnels cut into the bank where once uninterrupted meadow and sedges grew. It's a worsening problem and threatens all of the fish and furry animals who rely on the river ecosystem for food and shelter. So, what can we do if we love the river and its denizens as much as we love our dogs? Here are a few recommendations from the Enjoy-Protect-Respect campaign to minimize impacts.
Stay on existing improved trails. Let dogs roam free only in designated areas such as dog parks or in areas within the Deschutes National Forest that are not directly adjacent to the river.
Keep four-legged companions on leash along the Deschutes River Trail until arriving at a designated access point, such as a boat launch or other hardened surface. Most dogs will get used to the surface of a boat ramp with just a little coaching, and training them to do so is rewarding to both pet and owner. It's in a dog's nature to find (and create) new trails wherever they go, and while they might like to swim every 50 feet along the river, using only designated access points will help maintain the fragile riparian areas.
When throwing a ball for your dog, it's best to stand in the river also (preferably at a designated access point) and throw the ball upstream so that your dog can swim against the current for a workout, retrieve the ball and swim back to you without getting washed downstream, where they will likely cut new trails getting back to you.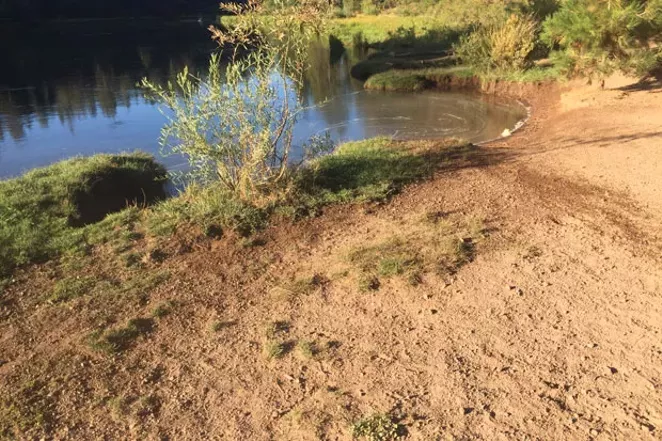 Always pick up after your dog! In addition to the fact that no one wants to see or step in your dog's droppings, canine feces are not helping to protect water quality in our rivers and streams.
Overall, the goal is for you and your dog to enjoy, protect, and respect the Deschutes River so that native fish and wildlife can enjoy it too!
Learn more about the Enjoy. Protect. Respect. initiative at enjoyprotectrespectdeschutes.org.