Dogs that live in Central Oregon don't really live normal lives. They get pampered everywhere they go—from dog treats at your favorite drive-thru coffee hut, a seat at the table for dinner at the brewery and a whole parade dedicated to our four-legged friends—it truly is a doggie sanctuary filled with all kinds of dog queens and kings.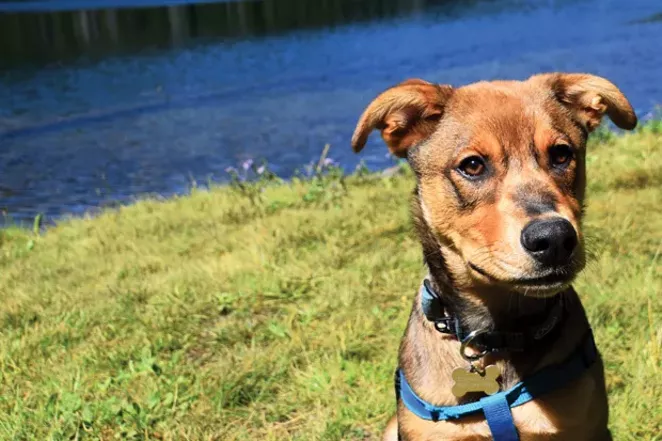 Dogs here just have it good. But how good? For the best insight into what it's like being a Central Oregon pup, I headed straight to the source—and interviewed my dog.
Name: Sancho
Age: 6.5 months
Where you can find me: In my parents' bed on top of all the pillows
CO Pets: So, Sancho, where are some of your favorite places to go?
Sancho: Pine Nursery is really cool. So much dogs! I also love Todd Lake, the Deschutes River Trail, hiking Bessie Butte and going to On Tap so dad can grab a beer.
CO Pets: What's a typical day like for you?
Sancho: Well if mom and dad are at work, I usually lay on the couch and do some serious binge watching and chew on a toy crocodile. When they come home, we either walk the neighborhood or go to the dog park. Then we snuggle and do it all over again. Oh! And we eat a lot of treats. I love treats. (Writer's note: This is pretty accurate, according to our doggy cam. However, Sancho forgets to mention how much of his day at home is actually spent napping. The dude can SLEEP!)
CO Pets: What are your favorite TV shows?
Sancho: Oooo! "Adventure Time" and "Boy Meets World" are awesome. I just started "Full House" (the OG version) the other day. Michelle is almost as cute as me!
CO Pets: What's the hardest part about being a dog in Bend?
Sancho: People are always trying to touch me for some reason. And why aren't dogs allowed in the movie theater? We can basically go everywhere else.
CO Pets: What's the job market like for dogs in Central Oregon? Sancho: Pretty good, actually. All you need is an Instagram page and you can become a beer mascot or an outdoor brand sponsor. I'm actually waiting for a call to be on the cover of your magazine.
CO Pets: Is there anything humans could do better here to make dog life easier?
Sancho: There could probably be more doggy options on the menus at dinner. Vegans are pretty much covered now—what about doggos?
CO Pets: Some people call Bend Dogtown, USA. Do you agree?
Sancho: Honestly? I wouldn't be surprised if there are more dogs than hoomanz here in a few years. We'd still need you to drive us around though—those roundabouts are confusing.