June may be Pride Month — but it's 2019, so why can't every month be Pride Month?
OUT Central Oregon, a local nonprofit that organizes LGBTQ+-friendly events throughout the year, aims for just that. The organization promotes "inclusivity, visibility, and equality for the local Lesbian, Gay, Bisexual, Transgender, Q+ community" in Central Oregon, putting on a variety of events from "Oh Yess, A Monthly Night OUT" to various Pride events in June.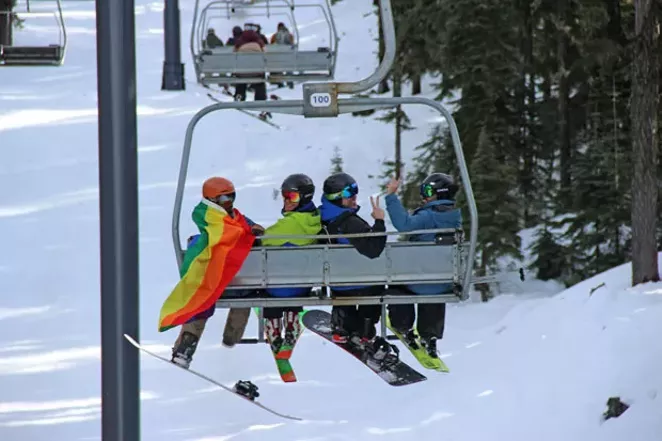 This weekend, OUT Central Oregon is gearing up to celebrate Central Oregon's LGBTQ community with a slew of family-friendly activities planned for the Winter PrideFest ski weekend in Bend.
In addition to skiing at Mt. Bachelor, the event lineup includes dining and drinks at the Friday Snocial at The Box Factory, ice skating at Seventh Mountain Resort, drag tubing on Saturday at Mt. Bachelor (with drag queens and kings taking to the slopes) and a guided Nordic skiing tour with The High Desert Museum for those who prefer not to downhill ski. Not one, but two, parties happen Saturday night — an Après Ski Party at Silver Moon and a low-key cocktail hour at Dogwood Cocktail Cabin. Winter PrideFest, now in its second year, secured a $10,000 grant from Visit Bend's Cultural Tourism Fund, helping secure rainbow badges, stickers and psychedelic tie dye buffs for all participating skiers.
The year 2019 looks to be the nonprofit's biggest year yet. OUT Central Oregon is teaming up with Human Dignity Coalition to organize a full month of Pride events in June.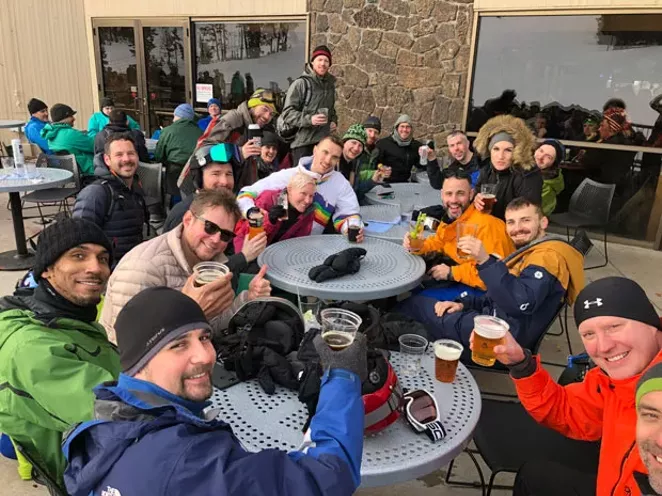 "Last year we had different events throughout the month that led up to the day of celebration," says Jaime Nesbitt, president of OUT Central Oregon. "But this year we have already started working with HDC to get our organizations to really come up with a strategy based on our strengths to make this year really successful."
OUT Central Oregon inherited its name from a Facebook group originally formed in 2011 for HDC events, which hadn't seen as much activity since Cliff Cook, once on the board of directors of Central Oregon PFLAG and a prominent leader in the Central Oregon LGBTQ community, passed away in 2017.
"Cliff Cook passed away and left a hole —'Our Night Out' fell off for a few months, no one was taking the lead," says Richard Scharfenberg, secretary of OUT Central Oregon. Since rebranding the monthly social event as "Oh Yess, A Monthly Night OUT," the nonprofit has regularly hosted numerous other events, significantly ramping up in the last few months. "We've had something almost every week —and you can just tell people are now empowered to do things," says Scharfenberg, who went on to mention recent drag bingo events and RuPaul Drag Race viewing parties.
Nesbitt says the nonprofit is excited to again partner with the Deschutes County Health Services outreach van to offer free HIV testing at its events in 2019. The outreach van, secured by the county last year after receiving a grant from the Oregon Health Authority, will increase the availability of HIV testing services in the tri-county area.
Winter PrideFest
Thur, Jan. 31 – Sun. Feb. 3
Various locations in Bend
See the full lineup of events at
outcentraloregon.com/winter-pridefest
Cost varies by activity, discounts available