There's no one else like Sierra Phillips. After growing up in Bend, she went to Boston for law school, became a practicing attorney, decided no thank you and opened up Bo's Falafel Bar just down the street from where she lived as a kid in Old Bend. Watching her move swiftly around Bo's is fascinating because you can tell Phillips (friends and staff call her Sisi) cares about people deeply. She cares that her staff is warm on the cold morning; that her customers are smiling and heating up with a cup of coffee in their hands.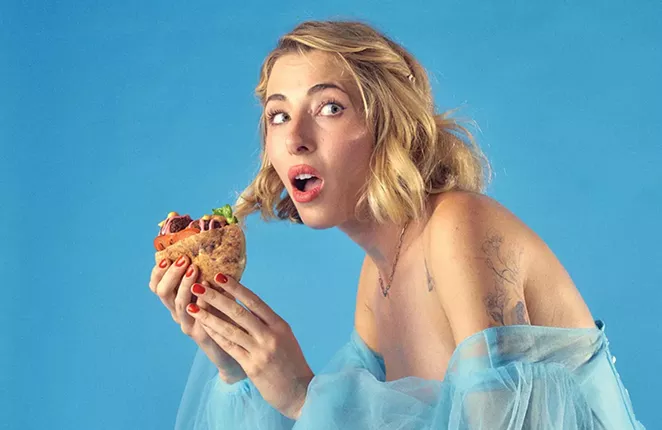 I had had Bo's falafels and knew they were delicious (the perfect balance of soft and crispy with complex flavors), but I was unprepared for how fantastic the bagels were. The maple bacon, egg and cheese on the jalapeño cheddar bagel is not something to be trifled with. The bacon was thick, smokey and amazing, the cheese all melty and divine, plus the jalapeños in the bagel tasted about as fresh as could be. And yeah, maybe I also tried the spicy chicken bowl (house marinated and electrified with turmeric, cinnamon and a dozen other secret flavors Sisi would kill me before revealing) topped with pickled cabbage, corn, olives, pomegranate slaw and pepperoncini on a bed of rice and greens. The combination of flavors here is complicated and incredible. I wanted another bowl immediately. I mean, come on, you just read that and your mouth is watering, right?
Sisi has big plans for the future of Bo's (none of which we're telling you here, sorry) and I have zero doubt she will achieve them all. There's something about Sierra Phillips that feels like an unstoppable force of nature, reminding Bend what it feels like to really be a community. Here's a transcript of my conversation with Phillips – it's long, so see the entire conversation on our website at bendsource.com.
Source Weekly: There's a quote from you I read that I just loved.
Sierra Phillips: Oh my God.
SW: You were practicing law. You were like, 'f*** this.' You were so stressed. You were cool with that stress, but you wanted the stress to be. . .
SP: My own.
SW: Yeah, your own stress on your own terms. Has it finally come back around to a different level of stress for you?
SP: Yeah. I mean there's no monthly paycheck, right? There's no security blanket. No matter how stressed I get, the bills will get paid. And even if I'm physically and mentally killing myself, everything will get taken care of behind the scenes.
SW: So, I know you just basically liked falafel, and said, "I want to do this," And then the bagels grew out of that during the height of COVID?
SP: I baked bagels and falafel at home. It's always been my favorite food. It was a comfort thing for me. I was so poor in college, so I ate a ton of falafel. I lived in the Jewish neighborhood in Boston and would go to the same falafel shop every day. It's also mixed with knowing that part of me was related to that in some way, and I didn't totally know how. That's a whole complicated story of my mom. My biological dad is Israeli and I found him two years ago. We might meet this year. It's this weird missing piece where it's like, no wonder I've always been drawn to it, you know?
SW: Sure.
SP: The bagels were kind of the same with falafel. I just lacked confidence in myself. I would make them and I didn't know if anyone liked them, so I started making them for my staff and they were like, "These are really good." And then it just kind of grew from there to selling 10 on a random Saturday, to selling 40 every Saturday and Sunday, and now selling a couple hundred Thursday through Sunday.
SW: One of the main reasons I wanted to talk to you is that you've done something I don't think I've ever seen a business owner do before. Your Instagram walks this line where you completely allow yourself to be vulnerable, while also being strong and funny and all these different things at the same time. I think you give people permission to be authentically themselves. You're just like, 'Here, this is me. I don't really care if you judge me. I just want you to know that it's OK to be authentic.'
SP: A hundred percent. It feels super important to me because of my childhood and because I wasn't able to be myself even through my late 20s. Now I'm more in touch with myself and understand how good it feels to be comfortable in myself and not give as much of a shit what other people think. It's like I need to spread the gospel of that. If it feels good and real to you, that's the most important thing, I don't show everything, though.
SW: Is it getting easier to be a woman business owner? Different struggles? New struggles?
SP: I don't like boss bitch stuff. That's not my style, I guess. Mm-hmm. I've never wanted to categorize Bo's as a woman-owned business. I just want to be a business owner and I just wanna participate. But it's undeniable that it's harder to be a business owner as a woman and in Central Oregon that's especially true. I'm looked down on and underestimated. As a woman, you're judged more harshly when you are stern or firm. You're seen as domineering or hysterical. I got called hysterical once and a bitch or you know, just all those shitty cliches. I'm not, I'm just secure (laughs). I'm just being confident and straightforward about my boundaries or values or whatever. But it feels like it's a little scarier to put yourself out there as a woman because people see it like you're emotionally unbalanced or something. So I wish that women in business were allowed to be more openly emotional and vulnerable without being seen as weak.
SW: Do you feel like there's something inherently insulting about there being a women's month as opposed to being given respect and thought every single day?
SP: I think the special attention is good. Some people need that education and to realize that, yes, women are treated differently and we do notice and we're gonna speak up about it. It's not victim mentality. We're not being hysterical. But I think it's women's day every day at Bo's (laughs). All day, every day, 365. The more we talk about it, the better. I wanna see paid menstrual leave at corporations that can afford that shit. I am tired of little businesses having and promoting these values that should be promoted at companies that can actually pay for it. Some people just need to be made aware that boundaries are not women being mean to you. It's just a boundary. It's like a new generation of women where we're not subservient and we're not going to, like, kiss your ass all the time. Which is how I was raised. I don't wanna do that. I don't want anyone to ever think going into a small business in Central Oregon that that's how it should be. I think that women have a lot of strengths and they're f***ing cool and we should celebrate!
Bo's Falafel Bar