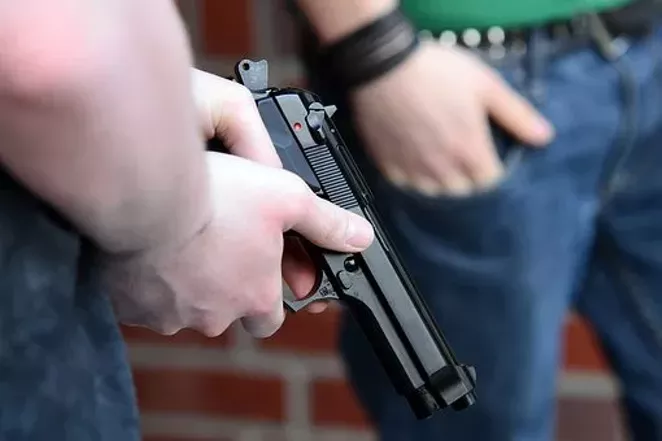 Supporters of a Deschutes County initiative petition to forbid enforcement of gun regulations have until Aug. 8 to submit 4,144 verified signatures if they want their measure to appear on the November ballot.
Jerrad Robison
, the chief petitioner behind the Second Amendment Preservation Ordinance said that he has not tallied how many signatures he and others have gathered so far.
"I'm hoping we're close, if not over the limit," he said. "I get calls pretty much every day."
Robison said he personally has collected more than 600 signatures and that more than a dozen other people are gathering them. He said the Deschutes County Fair this weekend will be an excellent opportunity to collect hundreds more.
The ballot measure would broadly re-interpret the U.S. and Oregon constitutions' right to bear arms and add "ancillary firearms rights." The Deschutes County sheriff would decide whether any local, state or federal gun law is unconstitutional under the measure's broader interpretations of those rights. And if the sheriff thinks a law is unconstitutional, the measure would forbid the county from enforcing it. Individual violations could result in a fine of up to $2,000.
If supporters don't meet the Aug. 8 signature deadline, they may continue to gather signatures for up to two years in hopes of placing the measure on a future ballot.
Supporters had pointed to a proposed statewide measure, Initiative Petition 43, that would have banned the sale of some semi-automatic firearms and large-capacity magazines as a motivator for the county measure. Backers of IP43 have since pulled it, but Robison said he will continue to seek passage of the county measure.
"Even though they backed off now, that doesn't mean they won't come back with something else," Robison said. "These guys need to leave our rights alone. They need to understand."
Robison is also a petitioner on a statewide initiative for 2020 that would require Oregon public schools to provide a firearms safety class to all sixth graders.