When Pahlee (Lee) Bretoi and her ex-husband Daniel bought Thai Thai on the westside near Summit High School they tried to keep everything the same. But Bretoi, who was in charge of the food, discovered a lot of the recipes weren't made from scratch. She said, "I wanted to make the food me and my family want to eat." So they changed the name to Nam Tok Kitchen— which means waterfall in Thai and Lao—thinking the name was befitting because Deschutes, the county we are in, also means waterfall.
With a new name came a new menu—all gluten free— and inspired by the Lao cuisine Bretoi grew up with. Laos is a landlocked Southeast Asian country known for its mountainous terrain and is bordered by Myanmar (Burma), China, Vietnam, Cambodia and Thailand. It's renowned for sticky rice with Laotians eating more of it than anyone in the world. Cooked with galangal (similar to the ginger we know but tougher and stronger) lemongrass and padaek—a fermented fish sauce. This Laotian staple is featured throughout the menu and you should definitely try it.
The Nam Tok Kitchen menu is a simple list of dishes with no designated courses. Bretoi says in Lao there aren't appetizers just small or regular plates. The first few items on the menu, fried peanuts, crispy chicken wings, chicken satay and fried tofu make great sharing starters.
I started with a cocktail, the Isaan Vodka Zizz, a mixture of lemongrass-infused vodka, club soda, lime juice, ginger and egg white. The egg white was missing, I could tell because it didn't have the foamy head on top, similar to a cappuccino. This was a bummer since the egg white would have integrated the flavors into the cocktail. I ordered the Tua Din, or fried peanuts, as a snack with my cocktail. The peanuts were coated with garlic, chili, kaffir lime leaves and a copious amount of salt. I was ravenous so I kept eating the peanuts; they had a really nice spice but I probably developed high blood pressure from all that sodium.
For dinner I ordered Tom Kha Gai,—a spicy and sour coconut chicken soup— and a house special combination meat plate with Sai Oua or Lao pork sausage, and heavenly beef, a marinated house-made beef jerky.
When the waiter delivered my meal he explained the traditional way to eat the combination plate. I was instructed to grab a small handful of sticky rice and roll it into a ball, then dip it into the spicy fish sauce or spicy tomato chili sauce and top it with meat. I did exactly that and enjoyed eating with my hands. The Lao sausage had a nice crispy skin and a soft, lightly fiery interior. I liked the sausage paired with the hot and sour fish sauce, Jeow Som—it made all the flavors pop.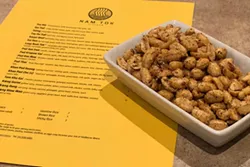 If you're a jerky lover, then the heavenly beef was made for you. It's lightly sweet with tangy heat, sprinkled with sesame seeds and isn't quite as chewy as traditional American jerky. Again, I found the fish sauce my dipping sauce of choice. There is something about that sourness that melds all of the flavors and makes your taste buds dance.
Tom Kha Gai is my favorite Thai soup so I couldn't wait to try it. Nam Tok Kitchen's version is sweet and homey. I was surprised it had tomatoes, the skins added a weird texture but it's the recipe Bretoi grew up with.
Bretoi visited the dining room while I was eating and came to each table to make sure everyone was enjoying their meal. She was happy to answer questions diners had about her new restaurant and was sweet, sincere and genuinely excited to be sharing her food with our community. Settling in her new role as a restaurant owner she told me she had learned everything she knew from her mother and aunt who had owned a catering business.
Nam Tok Kitchen's menu is made entirely from scratch and is gluten-free—which is quite the feat most restaurants can't claim. Even though there is only one vegan option, if asked, Bretoi says she can usually make a vegan version of most dishes.
So whether you're looking for gluten free or some colorful flavors for your palate, the addition of Lao cuisine to Bend is exciting and I can't wait to go back and try some of the noodle dishes, fried rice and curries.
Nam Tok Kitchen
745 NW Mt. Washington Drive, Bend.
Open daily: 11AM–2pm, 4–9pm