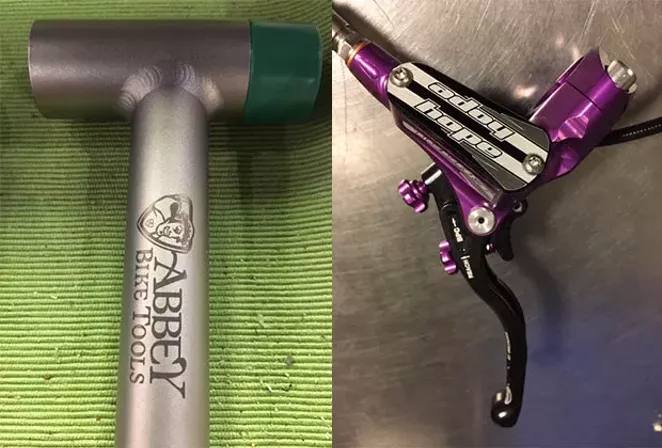 Forget the Ale Trail, at least for a moment. Whether you're a visitor here for the Single Speed World Championships or you're a cyclist looking to connect with local peeps, gather your friends and prepare your bikes. The (unofficial) Bend Bike Trail is a great way to see the city, check out bike-based businesses and possibly quench your thirst.

Bike shops
At last count, Bend has 12 bike shops—almost as many as breweries—but who needs breweries when you can have the smell of fresh rubber tires AND beer?! Some shops offer libations as well, so it's easier to "stop in for a visit." The Hub Cyclery, WebCyclery and Crow's Feet Commons (disclosure: I work there) have actual taps for visitors to sample; Project Bike also has a beer dispenser. Cheers!
Abbey Bike Tools
The best mechanics use the best tools, and some of the world's finest are made right here in Bend. Jason Quade has been designing and machining cassette removing, suspension tuning, and other installation tools coveted by the recreational and pro mechanic alike. Looking for a gift for the cyclist in your life? Look no further than Abbey, where "precision is their religion."
J. Livingston
If custom, vintage and repurposed are your bicycle jam, don't miss the chance to eye a J. Livingston at Bend Velo bike shop, where they endeavor to save the world, one bike at a time. Want a fully fendered fixie, a gear-carrying commuter or vintage steel racer? Only your imagination will keep you from finding what you like.
jlivingstonbikes.com / bendvelo.com
Hope Technology
A U.K.-based company has a distributorship right here in Bend. From four-piston hydraulic brakes and levers, to hubsets, headsets, bottom brackets and cranks, Hope produces high end components for both mountain and road bikes. Available in a myriad of anodized colors, the motto is, "We make high quality products, no sales waffle."
Argonaut
The brain child of Ben Farver, a frame builder who preferred the feel and performance of steel, eventually turned to carbon for modern day performance. Coveted world-wide, Argonaut frames are strong, light, fast and made right here in Bend.