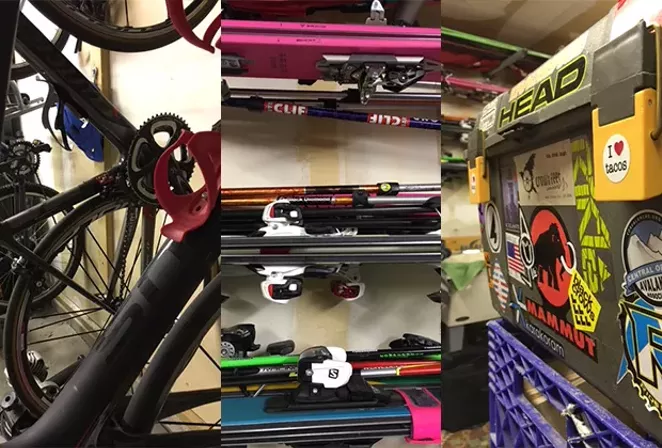 After a hot, smoky, dusty summer, Central Oregonians look forward to the cooler nights and cloudier days of fall and winter. Although the local dirt is becoming perfectly tacky, many dreams are filled with images of snow-capped peaks, untracked powder lines and the soothing nature of open fires and hot tubs. Winter season ski passes are on sale now, so let's review a few equipment tips to make the gear transition as seamless as possible.
I'm a retired ski professional with a bike problem—the first to admit that it's easy to forget about gear maintenance, especially when your garage, basement, bedroom and storage units are filled with equipment. Still, some basic maintenance will keep you rolling, ripping and shredding.
ORGANIZE
Just like your sock drawer, keeping gear organized makes it easier to find and inventory. In preparation for this article, I grabbed my boot bag, stored in my basement. Judging by the petrified banana peel, copious food bar wrappers and empty beer cans, I had a decent winter last year, but failed to put all my gear away after my last turns.
I use plastic storage bins to separate skiing, climbing, biking, camping and boating gear. I've also built shelves to maximize storage efficiency, which makes my off-season "advance gear fondling" sessions more enjoyable. Hang bikes from hooks so the fleet looks pro—or hang them in the house as artful conversation pieces, but don't stuff them under the deck like garden hoses. Definitely not pro. Skis, surfboards and fly rods would like the same attention, so include them, too. My workbench is historically a dumping ground for unfinished projects, tools and random bits. In winter it's my ski tuning bench, so shoulder season is the time to clean it up and prepare for weekly waxing / tuning sessions.
WHIPS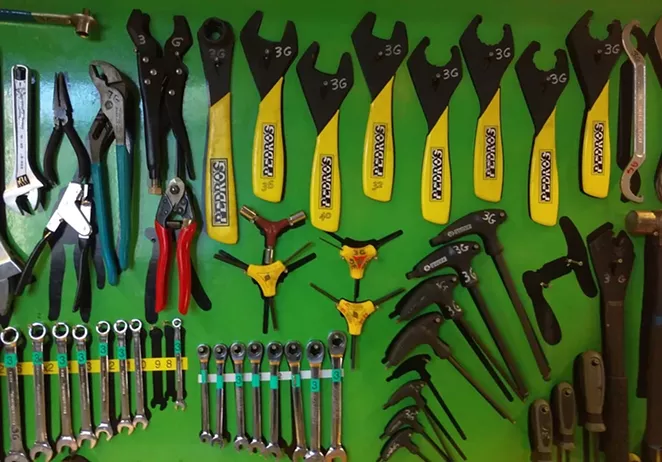 You rode your bike hard and put it away wet (and dusty) way too much this summer. Now's the time for general maintenance.
"It's pretty common to see bikes this time of year with suspensions that are not working properly or are completely toasted," says TJ Jordan, owner of The HUB Cyclery. Suspension forks and shocks have hourly use service intervals (50,100, 200 hours of use), and their performance and longevity require attention. "Have your suspension, drivetrain and braking systems serviced once a year, or more, if you ride a lot," recommends Jordan. Hydraulic brakes need bleeding, brake pads wear out and chains wear faster on local volcanic ash trails. Overused and clapped-out chains are the demise of bicycle drivetrains. Get them checked. It's also a great time to find a new steed, as most bike shops are selling off their demo fleet and previous model year whips, often at significant discounts.
STICKS
It's snowing somewhere right now, and all the surgically repaired knees of Central Oregon are beginning to vibrate at unusually high levels. Ski shops in town (full disclosure: I manage one of them, Crow's Feet Commons) are beginning to ramp up binding, boot and base work, so now's the time to get ready for the slopes.
Performance level ski and snowboard bases are made of a porous sintered material that readily accepts wax, which keeps the base performing at its highest level. A waxed ski base will slide more smoothly over changing snow temperatures and be more resistant to damage. Nordic skiers are often the biggest "wax nerds" out there. For the backcountry set, well-prepared and maintained bases hold wax longer and allow climbing skins to stick better. Edges take a beating as well, and should be smooth, sharp, and rust-free for best performance. A common shop mantra: Repair, Edge, Wax. Repeat.
SHOES
Boots are the single-most important piece of the equipment puzzle for skiers and snowboarders. They need to fit and be the correct flex. You should love them.
Jeremy Nelson, owner of Skjersaa's, says fall is a great time to get ski gear prepared. "We have more time on our hands here in the shop and can turn jobs around quickly."
As there are many different shapes of feet and many shapes of boots, "properly fit boots are paramount," says Nelson. "Custom footbeds and modern liners take care of much of the boot fitting issues we see throughout the season. Modern equipment and materials make the fitting process much easier than even a few years ago," he says. Don't have footbeds? At a minimum, skiers and riders should have a drop-in insole.
ACCESSORIES
Never underestimate the value of warm fingers and clear vision. Replace old baskets on your ski poles, retire your ripped up and duct-taped gloves and ditch the scratched-up goggles. For the backcountry, climbing skins need loving, too. Extend their useable life by clearing them of tree sap and dirt. If they need it, have your skins re-glued.
Professional Alpinist Graham Zimmerman says, "Of all our gear, avalanche equipment is what we hope to never use. Since we don't use it that often it's imperative to make sure it is modern, it functions perfectly, and you know how to use it." He also says, "If you have avalanche gear, replace the batteries in transceivers and refresh your knowledge on snow safety. Take a course. Read a book. Meet up with your partners and make sure each transceiver sends and receives."